Spa-paket
Då Tallink inte trafikerar sträckan Stockholm-Riga ingår resan ej. Pris för flyg tillkommer. Ifall vi bokar flyget tillkommer även bokningsavgift 500 kr per person. Priserna och paketinnehållet på hemsidan är ännu inte uppdaterat. Arbete pågår.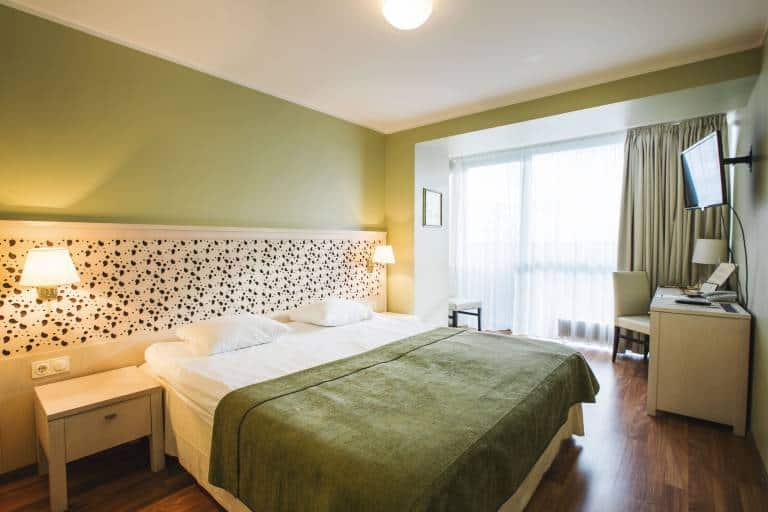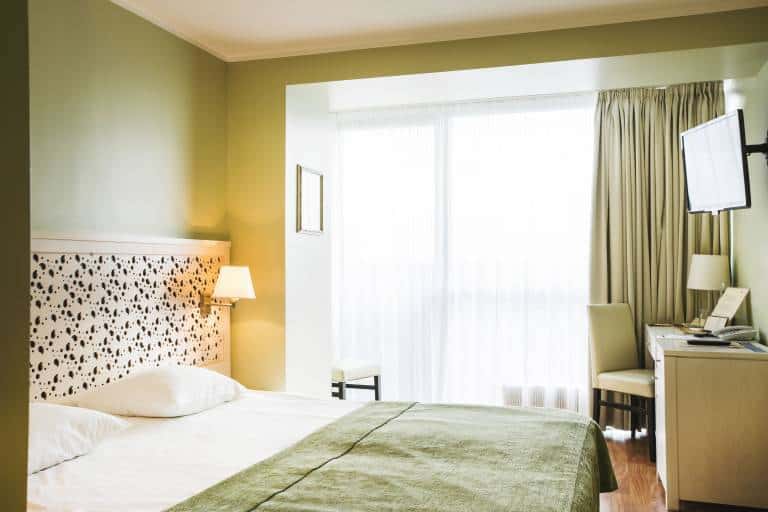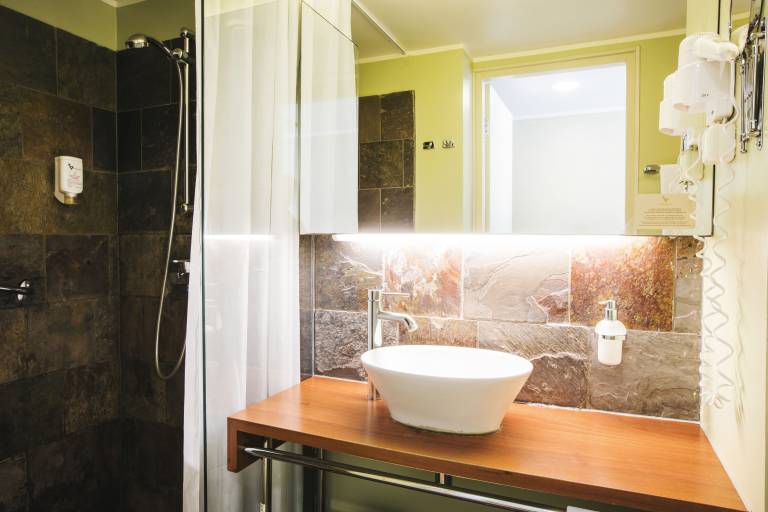 Standardrum
22,5 m², laminatgolv/heltäckningsmatta, separata/dubbelsängar, dusch, wc, badrock (ej hotellresa), hårtork. Tv, minibar, WiFi, luftkonditionering, fransk balkong. Spjälsäng för barn möjligt.
Mot tillägg: Handikapprum, familjerum/rum med anslutande dörr, svit (jacuzzi/bastu) med balkong.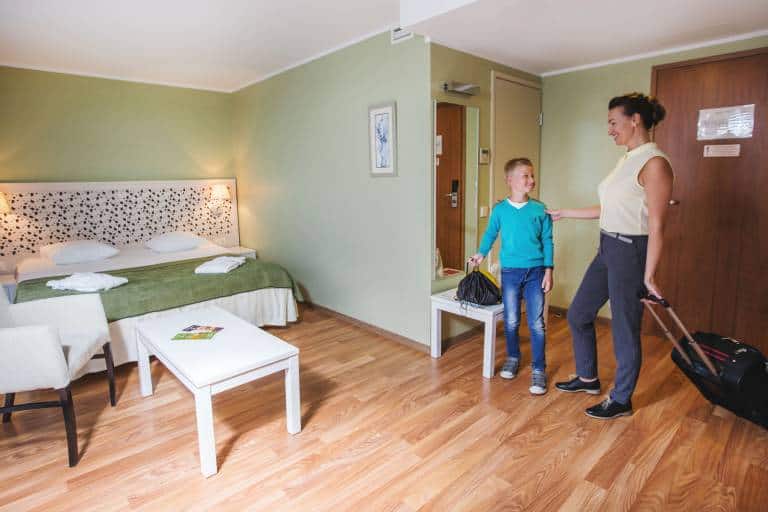 Superiorrum
28,5 m², laminatgolv/heltäckningsmatta, separata/dubbelsängar, dusch, wc, badrock, hårtork. Tv, minibar, WiFi, luftkonditionering, balkong. Extrasäng möjligt.
Mot tillägg: Handikapprum, familjerum/rum med anslutande dörr, svit (jacuzzi/bastu) med balkong.
Passar hela familjen
Centralt vid gågatan i Jurmala
Nyrenoverad bad-och bastuavdelning
Naturligt och modernt
Jurmala Spa har ett perfekt läge alldeles intill gågatan i centrala Jurmala, bara några hundra meter från den fantastiska sandstranden. Spahotellet har modernt inredda rum med naturliga material som trä och sten för att du som gäst ska få en så vilsam och avkopplande atmosfär som möjligt. Väljer du superior-rum så ingår dessutom balkong.
Nära till nöjen
Från sommarterrassen har du utsikt över folklivet på gågatan där många av Jurmalas alla utomhusrestauranger drar folk från när och fjärran. Det mesta av restaurang- och barutbudet har du alldeles utanför Jurmala Spa.
Wellness Oasis
I hotellets pool- och bastuavdelning Wellness Oasis kan du njuta av simning, bubbelbad, 6 olika bastur och Aqua Bar för förfriskningar. Jurmala erbjuder ett stort utbud av förstklassiga behandlingar med välkända märken, t ex SOTHYS och Bernard Cassier.
På hotellet finns
190 hotellrum. Wellness Oasis vattencenter med 4 pooler med olika temperaturer: 28 C, 31 C, kallpool 14 C, barnpool med rutschbana 30-32 C. 6 olika bastur: 100 C, 80 C, saltbastu 48 C, ångbastu 47 C, aromabastu 60 C, barnbastu 50 C. Bubbelpool, Aqua bar, kontrastdusch, vattenkaskad, rysk dusch, solarium. Restaurang, lobbybar, Seaside bar, casino och sommarterrass. Gym, frisör, skönhetssalong. Konferenscenter med 7 konferensrum.
Frukostbuffé: mån-fre 7.30-10.00, lör-sön 7.30-10.30
Middag: 18.00-20.00
I receptionen kan man hyra badrock, gångstavar, cyklar och värdeskåp. Fri parkering.
Öppettider:
Spa & beauty center mån-sön 10.00-20.00.
Wellness Oasis och gym mån-tor 7.00-22.00, fre 7.00-23.00, lör 8.00-23.00, sön 8.00-22.00.
Adress: Jomas iela 47/49, Jurmala
Våningar: 11
Hissar: 4
Telefonnummer: +371 677 84400
---
Grupper
Är ni 10 eller fler resenärer? Fråga oss om grupprabatter
Konferera och njut av spabehandlingar på Jurmala Spa. Hotellet ligger bara 25 km från Riga centrum och 15 km från Riga flygplats i vackra välkända kurorten Jurmala. Här finns mötesrum för stora och små evenemang. Största konferensrummet tar upp till 396 personer.
Skicka en gruppförfrågan till info@vegaresor.se, så återkommer vi med prisförslag.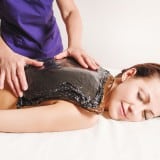 BEHANDLINGAR SOM INGÅR
Day SPA:
Chargot shower – Chargot dusch 15 min
Underwater massage – undervattensmassage 20 min
Barotherapy (pressure boot therapy) – pressoterapi 20 min
Wellness hair mask – hårmask 30 min
Underwater vacuum massage – vakummassage under vatten 20 min
Cleopatra pearl bath – Cleopatra pärlbad 20 min
Soy candle therapy for hands (soy candle) – sojavaxbehandling för händer 20 min
Paraffin mask for hands – Paraffinmask för händer 20 min
Paraffin mask for feet – Paraffinmask för fötter 20 min
Vitamy hand treatment – Vitamy handbehandling 30 min
Histomer treatment for tired legs – Histomer behandling för trötta ben 30 min
Aromatherapy pearl bath with extracts from sapropel muds – Pärlbad med Sapropel lerextrakt 20 min
Ionic detoxification (electrolysis process) – elektrolys-detox fotbad 30 min
Sapropel mud application Locally (1 zone) – Behandling med Sapropel lerextrakt 20 min
Face cream mask – ansiktsmask 20 min
Back massage with oil or cream – ryggmassage med olja eller kräm 20 min
Face massage with oil or cream – ansiktsmassage med olja eller kräm 20 min
Feet massage – fotmassage 20 min
Hand massage – handmassage 20 min
Health capsule – hälsokapsel 30 min
Manicure with classical coloring – klassisk manikyr med lack
Manicure for men – manikyr för men
Enrichment of the skin with active substances by ultrasound – Berikning av huden med aktiva substanser med ultraljud 30 min
Face cleaning with ultrasound – Ansiktsrengöring med ultraljud 30 min
Oxygen therapy for face – syrebehandling för ansiktet 15 min

Wellness day SPA:
Ozokerite and paraffin application – Paraffin-ozokerit behandling 15 min
Salt cave – saltkammare 40 min
Well-being foot massage with device – fotmassage med apparatur 20 min
Sunlight spot – solarium 20 min
Nordic walking – Gångstavar
Electrotherapy/Darsonval – Electroterapi/Darsonval (efter läkarkonsultation)
Electrotherapy/Magnetotherapy – Elektroterapi/Magnetterapi (efter läkarkonsultation)
Electrotherapy/Laser therapy – Elektroterapi/Laserterapi (efter läkarkonsultation)
Oxygen cocktail – syrecocktail
Oxygen therapy – syrebehandling 15 min
Acupuncture mat – akupunkturmatta 20 min
Well-being foot bath with oil or salt – fotbad med olja eller salt 15 min
Ionic detoxification (electrolysis process) – Jonisk detox (elektrolys) 15 min
Aerosol Therapy – Inhalation (halotherapy) – Aerosol inhalationsterapi 30 min
Alpha-stim ® Electrosleep therapy – Alpha-stim Elektrosömnterapi 30 min
Aromatic pearl bath with sea salt or oil – pärlbad med havssalt eller olja 20 min
Electrotherapy ultrasound (Phonophoresis) – ultraljud 15 min (Phonophoresis)
Electrotherapy ultrasound (Dermabrasion) – ultraljud 15 min (Dermabrasion)
Air Compression Back Stretching Mat – Stretchmatta för luftkompression

BEHANDLINGSLEXIKON
Paraffin-ozokeritbehandling – Ozokerite and paraffin aplication 15 min
Applications of mountain wax (ozokerite) and paraffin to the shoulder zone or arm / leg joints. The applications provide deep warming effect. The applications are helpful with joint problems, reduce muscle pains and release tension. They are also used for cure of respiratory illnesses.
Aromaterapeutiskt pärlbad  – Aromatherapy pearl bath with sea salt or oil  20 min
Bubble bath, to the water of which either aromatic oil or marine salt is added at the customer's desire. This either a calming or toning treatment (depending from the substance added), which stimulates or calms the nervous system improving metabolism and reducing muscle and bone pains. The bath is advisable in case of overload and difficulties with sleep.

Histomer behandling för trötta ben – Histomer Treatment for tired legs
Treatment for legs, from feet to knees. The treatment perfectly removes fatigue in the legs, removes swelling and improves blood circulation. After the procedure, you will feel an unforgettable feeling of lightness. The procedure includes: foot peeling, massage and wrapping.

Hälsokapsel – Health capsule
The treatment is carried out in a SPA health capsule. During the treatment, the body is treated with Vichy shower water massage; aromatic steam and infrared rays of the capsule eliminate 600 kcal; additionally, music and light therapy is used to make the treatment a real pleasure.

Sapropel lokal lerbehandling – Sapropel local application 
Sapropel is effective for treating various skin diseases and also for stimulating skin metabolism. Sapropel helps treating: psoriasis, fungus and other skin diseases; helps in case of arthritis, polyarthritis, spinal diseases; bruises, fractures, fresh wounds, scars and burns; various inflammations.

Undervattensmassage – Underwater massage  20 min
A calming or toning water treatment (depending on the water t° and jet pressure), during which a qualified specialist makes the body massage with powerful water jet. Underwater massage is advised in case of joint or spinal problems or lymph outflow disturbance. The massage improves metabolism and blood circulation in tissues increasing the amount of oxygen and removing eliminates slag's. It is especially effective for migraine or stress relieving and sleep improving.

Saltkammare –  Salt cave  40 min
An artificial salt cave for inhalation of salt dust, which is formed of finely grinned salt and pulverised. Salt therapy is used with different chronic illnesses of skin and respiratory tracts. The treatment is also advised for immunity improvement and respiratory prophylaxis. The salt dust is also good for cleansing smoker's lungs.
In case of child's diatheses, allergy, bronchial asthma or low immunity, it is advised to visit the salt room 2 times a year as a 10-session course

Charcot massagedusch – Chargot shower 15 min
Body massage with powerful water jet. The massage is carried out by a qualified specialist. During the treatment, the blood circulation and metabolism are improved increasing the body tonus. Besides, the treatment improves skin elasticity and reduces cellulite

Hydrojet massagesäng – Hydrojet  waterbed 20 min 
A warm 'water bed' for body massage with a water jet circulating under the mattress. Different massage regimes are possible – back, leg or whole body massage, it is also possible to adjust the water jet power. The treatment is perfect for body relaxation and overcoming of tiredness.

Ljusbehandling  – Sunlight spot 20 min
The use of light therapy in medicine has a long story. Hipocrates deskribed the use of sunlight to cure variousmedical disoders. It stimulates regenarative process as well as those of the human immune system, harmonize metabolic processes.
Light therapy decreased seasonal affective discorder symptoms. Symptoms include changes in appetite, weight gain, drop in energy levels, reduction in sex drive, reduction in quality of sleep.
Light therapy is wonderful  for anyone, not just those who have winter depression. It is especially good for shift workers, school children, travelers

Elektroterapier – Electrotherapy – magneto therapy; laser therapy; darsonvalisation
Electrotherapy is used for relaxation of muscle spasms, prevention and retardation of disuse atrophy, increase of local blood circulation, muscle rehabilitation and re-education, maintaining and increasing range of motion, management of chronic and intractable pain, post-traumatic acute pain, post surgical acute pain, immediate post-surgical stimulation of muscles to prevent venous thrombosis, wound healing and drug delivery.
Magnetotherapy – is considered as very effective in alleviating pain and stiffness. When the body comes into contact with magnets, the magnetic waves pass through the tissues.
Laser therapy – healing with light energy.
Darsonvalisation – high frequency heat therapy. This therapy helps to reduce cellulite and cure varicose veins.
Only recommended with doctors suggestion after surgery, serious illness etc. Not recommended as ordinary spa treatment.

Gångstavar  – Nordic walking
Nordic Walking is easy to learn and can be done by anyone, anywhere, at any time. It originated as an off season cross country ski-training activity and has evolved into a year round form of exercise. While using poles to Nordic Walk, you exercise your upper body and arms as well as your legs. Due to this increase muscle involvement, you also experience the following benefits:
Burn more calories than just walking
Better cardiovascular work out, helps increase heart rate
Gives you a complete, total body work out
Low impact…helps relieve stress on your leg joints, knees, ankles, etc.
Helps you maintain balance
Stretches shoulder, neck and back muscles to help relieve tension

Syrecocktail – Oxygen cocktail
50% more oxygen then in the air! Improves heart and blood circulation system activities; rises organism tone; reinforces immunity; rejuvenates strength and energy and regulates metabolism

Syrebehandling – Oxygen therapy 15 min
During the therapy you will inhale from special device 50% more oxygen then in the air! Therapy improves heart and blood circulation system activities; rises organism tone; reinforces immunity; rejuvenates strength and energy and regulates metabolism.

Spikmatta  – Acupuncture mat 20 min
A wonderful massage mat for self-healing, relaxation and revitalizing. Increase your energy level. Live down on Eco mat and feel the energy flowing through your body and soul. Just what you need.

Fotbad  – Well-being foot bath with oil or salt 15 min
Awarm hydromassage bath for feet with sea salt or aromatic oil. The treatment is helping rediscover sense of comfort and relaxation.

Detox fotbad – Ionic detoxification (electrolysis process) 15 min
The Ionic Cleanse process is an amazing cleansing method for detoxifying your entire body by bathing your feet in warm water while using positive and negative ions from an ion generator. The process is also known as electrolysis.
It is an external detoxification method, which removes toxins through your feet. The body detoxifies while you are comfortably seated with your feet placed in a container of warm water. This is a very efficient way to remove toxic accumulations regardless of where they are located in the body.

Pressotherapy  – Barotherapy (pressure boot therapy)
Pressure Boot Therapy is the lymphatic drainage massage that is performed using special devicePressure Boot Therapy  is the lymphatic drainage massage that is performed using special device. Due to consecutive rhythmical stimulation of muscles lymphatic flow and black blood are rehabilitated. Press massage is performed to improve the metabolism, help the body eliminate waste, toxins and excess water.
Pressure Therapy performs a circulatory massage of the zones to be treated (usually the limbs) by activating the venous return and thereby.It's promoting the reabsorption of insterstitial fluid and stimulating venous/lymphatic drainage. This allows the acceleration of arterial, venous and lymphatic circulation. It is indicated as cellulite reduction.
It is possible to combinde with wrap treatments for maximum results.

Handbehandling med sojavax – Soy candle therapy for hands
Relaxing hand massage with warm soy wax, with 3 natural oils –   almond, jojoba and apricot kernel. Moisturizing and nourishing treatment with 12 hours effect. It can be combined with manicure.

Electrotherapy ultrasound (phonophoresis)
Entering active substances injection in body through intact skin using ultrasound meh. fluctuations.

Ansiktsbehandling med ultraljud – Electrotherapy ultrasound (Dermabrasion)
This is mechanical cleaning of the skin upper layer or, in other words, mechanical skin polishing. The so called mechanical face peeling, when the upper layer of skin is removed, and instead of it a new one appears having good vital resource. By method of dermabrasion face wrinkles are removed, besides, it refers also to deep mimic wrinkles, complexion becomes even, without pigments and visible blood vessels. Likewise, this procedure is used also for correction of scars, removal of inborn defects of skin (for example, birthmarks). This method is used also for tattoo removal.

Hårinpackning – Clay Hair mask
Improving and revitalizing hair mask with clay components . After procedure, hair washed and dried.

Inhalation  – Aerosol Therapy – Inhalation (galotherapy)
Is one of the most important methods of treatment inflammation of the airways.

Alpha-stim ® Electrosleep therapy /30 min
Unique and effective procedure, eliminating the discomfort of health (stress, depression, insomnia, etc.). The procedure is carried out by fixing two electrodes to the ears of the client and increasing the number of alpha waves in the brain. Alpha waves are associated with relaxation and tranquility in a state of wakefulness, thus contributing to the calming of the central nervous system. All this has a positive and lasting effect on well-being, mood and behavior.

Cleopatra pearl bath /20 min
Bubble bath, with bath milk. The water enriched with milk softens the skin – it becomes smooth and velvety. The treatment suits to all types of skin; it is especially good for dry or tired skin care.

Underwater vacuum massage /20 min
The basic principle is the local vacuum effect on soft tissues in a warm bath with fresh water. It improves transcapillary metabolism and blood circulation in the muscles, and increases the intensity of the metabolism in the underlying tissues. It reduces active vascular tone and hemodynamic resistance. Aqueous medium enhances and transforms the effect of massage techniques on the body.
Indications
Degenerative diseases of the joints and spine: osteochondrosis with various reflex syndromes that do not require neurosurgical intervention; osteoarthritis (I–III X-ray grades) without synovitis.
Dematous fibrosclerotic panniculopathy (cellulitis).
Correction of cosmetic defects on the skin (e.g., scars).
Treatment of contractures.
Chronic fatigue syndrome.
Fibromyalgia syndrome.
Obesity.
Contraindications
Acute inflammatory diseases of the skin and subcutaneous tissue.
Thrombophlebitis of the superficial and deep veins of the lower extremities.
Phlebothrombosis, elephantiasis, varicose veins.
Chronic venous insufficiency.
CAD, arterial hypertension, 2nd grade.
Aseptic necrosis of bones.
General contraindications for physiotherapy and balneotherapy.
Individual intolerance.
Förhandsbokning av behandlingar
Vi rekommenderar att du förbokar dina behandlingar även då du har ett paket där det ingår ett läkarbesök. Även tillvalspaket bör förbokas. Öppettider: Spa & beauty center mån-sön 10.00-20.00.
Skicka ett mejl (på engelska) med era valda behandlingar till spaavdelningen på hotellet: booking@hoteljurmala.com
Rubrik/Ämne: BOOKING OF TREATMENTS, VEGA RESOR
I texten anger du korrekta datum för incheckning och utcheckning på hotellet och era namn. Ni behöver inte nämna Vega Resors bokningsnummer.
Lista dina behandlingar och eventuella önskemål om datum och tid.
Om ni bokat tillvalspaket, skriver ni namnet på paketet och listar därefter önskemål om datum och tid.
Om ni ska boka extra behandlingar kan ni nämna dem även här. Separera dessa från de som ingår och skriv "pay on spot"